Vietnam's ancient pine tree in world's top 100 ornamental plants
Monday, April 8, 2013
Vietnam's ancient pine tree in world's top 100 ornamental plants
March 5, 2013
by
vietnamnet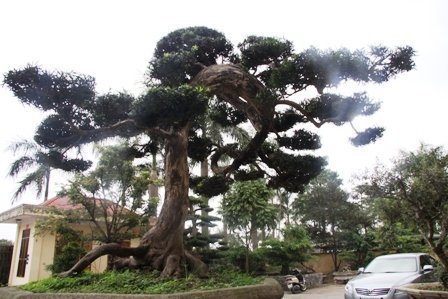 VietNamNet Bridge – A 300 year-old pine tree belonging to a man in Viet Tri city, Phu Tho province, has been honored as one of the world's 100 most beautiful ornamental trees.
The owner of this bonsai tree is Mr. Pham Duong Quyet, in Le Quy Don Ward, Viet Tri City. This tree is praised by experts on ornamental trees as the most beautiful pine tree of Southeast Asia.
At the International Conference on Ornamental Trees, held in Taiwan on February 22, it was selected as one of the 100 most beautiful ornamental plants in the world.
This ancient pine tree of more than 300 years old comes from a famous Chinese family. After a long trip from China to Vietnam and then from the south to the north, after being owned by dozens of people, the tree has finally belonged to Mr. Quyet since mid-2007.
Currently, this plant is placed in the courtyard of the Department of Health of Vinh Phuc province
VIET DELTA CORPORATION
HEAD OFFICE: 20/5 Dinh Bo Linh Str, Ward 24, Binh Thanh Dist, Hochiminh city, Vietnam
Tel: (84) 835119589 / (84) 38998085 / Fax: (84) 835119559